Dr. James W. Lauderdale Appreciation Club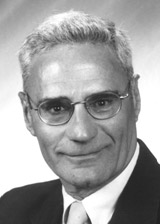 Description
Fund Purpose
This fund was formed to recognize the contribution of Dr. Jim Lauderdale to the field of reproductive physiology and to the American Society of Animal Science. Money from the club is used every three years to help support the Triennial Reproduction Symposium. In addition, money from this fund will now be used to support the ASAS Animal Physiology & Endocrinology Award.
The Lauderdale Appreciation Club will provide $2,000 plus accrued interest to fund the ASAS Triennial Animal Reproduction Symposium. Jim's contributions to our scientific community and to the animal industry are appreciated. One key scientific contribution was his leadership to develop and obtain regulatory approval for Lutalyse. Throughout his career, especially during the past two decades, Jim performed exemplary service to ASAS, including his presidency of ASAS and FASS. He generously contributed his time and talents to many individuals and companies. Deepest appreciation is expressed to the generous contributors and to John Chenault, Mel DeJarnette, Harold Hafs, Mike Moseley, David Patterson, and Bob Zimbelman for the success of funding this club.
Read the article: Lauderdale Appreciation Club honors legendary reproductive physiologist
Fund value as of 2/28/2021: $62,467
---
Please log in to receive member pricing.
---